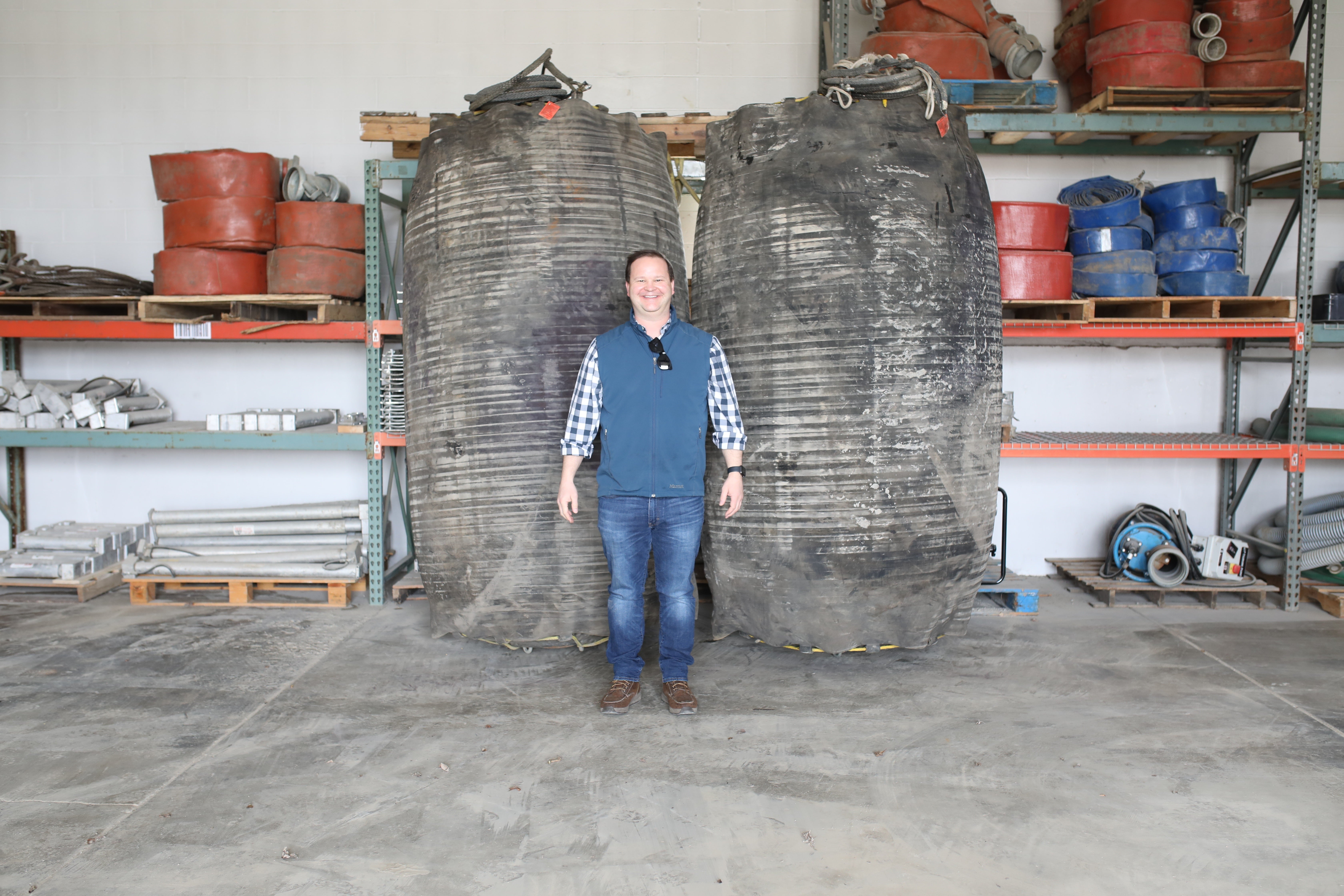 March 29th, 2021
CRYSTAL LAKE, ILLINOIS — Job-site safety is a major focus, as well as a core value, for Lee Jensen Sales, as you would expect from a distributor serving the needs of underground construction contractors. One of the company's bigger lines of business is pipe plugs — both mechanical and pneumatic, sales and rentals — used for blocking, bypassing and testing buried pipe lines. The risk in these subterranean activities is far from minor, cautions sales manager Todd Larsen.
"There are all sorts of bad stories about plugs blowing up inside pipelines. The plug itself is like a missile when it blows, and we have seen some unbelievable things. Without proper care and handling, the work can be very dangerous."
This preoccupation with safety is one of the reasons Larsen gets personally involved in customer safety training, especially to help maintain compliance with OSHA (Occupational Safety and Health Act) regulations. The preoccupation is also rooted in Lee Jensen's choice of vendors. One of its primary suppliers for pipe plugs is Cherne Industries, with whom company founder (and Todd's grandfather) Lee Jensen began working 35 years ago.
"Many times in my trenching and excavation classes, I will use a Cherne video on plug safety," Larsen explains. "It shows the young trainees exactly what can happen with plugs and how serious the situation can get."
But safety-education support is only one of the ways Larsen and his company have come to count on Cherne over the past three and a half decades. "We depend on Cherne because they typically have product in stock, and they get us that product quickly," he says. "They are very reliable."
Joining the family business: Lee Jensen Sales got its start in the Chicago underground construction market 45 years ago, selling wire rope, nylon slings and other types of rigging and material-lifting products to the trades. As the business and its relationships grew, the company expanded into construction lasers, trench boxes and shoring equipment, pipeline testing and televising. In time, Lee Jensen also began offering portable generators and pumps, as well as confined space entry equipment, seeking to become a broad-based, full-line resource to the underground contractor.
Larsen joined his grandfather's company in the mid-1980s after graduation as an organization communications major from his hometown school, The Ohio State University. And how did the Columbus native find himself, post-commencement, 360 miles from home?
"I was always told to talk to family and friends first when looking for a job," says Larsen, "and my grandfather was very convincing. The fact that I am still here suggests that it has worked out for me."
Today, the company has a staff of 30 full-time employees at two locations, Crystal Lake (headquarters) and Mokena, at the far northern and southern ends of the metro Chicago market. The customer base continues to be mainly underground contractors working on projects from northwestern Indiana, through the Chicago area and up into southern Wisconsin. But the company also works with various water and sewer utilities within that same geography.
In the following interview, Larsen discusses some of the challenges of helping its customers navigate the underground piping business in ways that are both safe and successful.
Question (Q): What are the biggest pain points for Lee Jensen Sales in the pipe plug business?
Todd Larsen: The No. 1 problem is over-inflating the plug after it has been inserted into a pipeline. Sometimes, when a contractor is not getting a good seating of the plug against the pipe, they mistakenly assume what's needed is more pressure. In the past, when they would do that, the plug would go boom.
Fortunately, Cherne has developed a very nice solution to this problem, fitting the end of the plug with a field-replaceable rupture disc to project against over-inflation. When the customer does over-inflate the plug, the disc blows out, but the plug seals back up and can get used again.
Q: These plugs inevitably take a beating in the field, don't they?
Larsen: Even with the replaceable rupture discs, we still have the problem of an over-inflated plug inside of a dirty pipe with rocks, gravel and other anomalies. As the plug inflates, back pressure drives up against it. Or perhaps the contractor lets the pressure out too early while there is back pressure on the plug.
In either case, the plug will start moving and rip against the rough surface of the pipe. In such instances, we typically must send the plug in for repairs or scrap it. We do some light repairs internally, but it is seldom economically justifiable.
Q: How does a customer decide whether to buy or rent that plug from Lee Jensen Sales?
Larsen: The biggest factors are cost and the amount of time the plug will be in service. If a contractor intends to use a plug over a long period, he may save money buying it outright. But these larger pneumatic plugs can cost quite a bit of money: A 48-inch – 72-inch test-ball plug is around $10,000. In that case, rental may make more sense.
But there is a risk in rental for us, relating to plug over-inflation and degradation problems I mentioned. When a contractor wrecks a 48-72 test-ball plug, we have to go back to them: "Hey, you owe us $10,000." That's no fun, which is the limitation of plug rental and why a lot of dealers don't  do it.
It's also why, when rental plugs are returned, our staff spends a lot of time inspecting them to make sure they are still sound. We don't want to send a plug back into the field if it has the slightest problem. Nor do we want to miss a problem, only to discover it months later and have to eat the cost of the plug ourselves. That part of our business can be a little dicey.
Q: Beyond reliable product performance, what do customers expect from the pipe plugs they rent or buy from you?
Larsen: They expect Lee Jensen Sales to provide technical expertise in difficult applications: Because our company has been involved in the plug business for so many years, we understand those expectations. We know what can happen to plugs in the field.
For example, I recently had a customer who planned to insert an inflated, 60-inch ball into an under-water pipeline — and in the middle of winter, no less. Trying to push even a partially inflated plug into a pipeline under water can be very difficult. Our solution was to inject water into the plug itself, so it would seek and match the buoyancy of the surrounding water. Then they could more easily lower it into the water and into the pipe.
After 45 years in this market, our people are experts in dealing with the day-to-day issues that confront our local customers. But Cherne's people have seen a lot and done a lot across the entire United States. They are always available to talk with us when we have questions or problems, so sometimes we call them to discuss tricky or unusual applications. We rely on Cherne and their local rep agency, Fisher-Harris, for that help.
Q: Your company handles more than one plug brand. What is your strategy for deciding which one to sell or rent?
Larsen: Most of our bigger plugs are provided by Cherne. The key is their ready availability to us. Yes, we do business with other vendors, but we have better luck with Cherne's larger sizes. They just hold up better because of the way in which they are produced.
Like I said, when we have questions or problems, Cherne stays involved. They don't ghost us. They are there for us and work closely with us. They are very good people.
For more information on pipe plug safety, check out these resources: