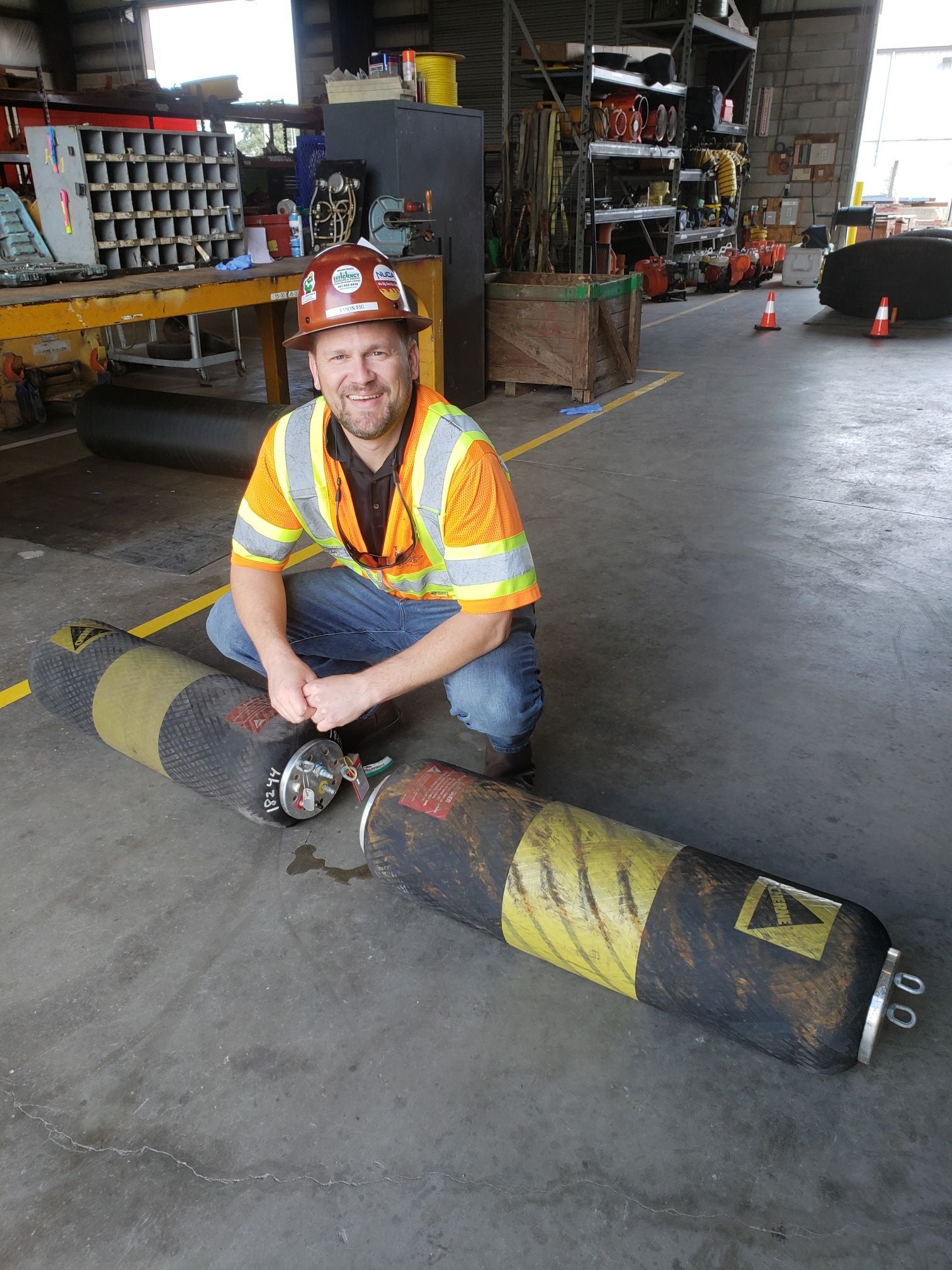 October 30th, 2020
I-Series Pipe Plugs | Jason Figueredo Q+A | October 2020 |

 
Distributor Jason Figueredo:
"Why Cherne has become my go-to brand for pipe plugs"
The head of Trench Plate Rental's Orlando branch describes the recent launch of Cherne's better-built I-Series line of pipe plugs, the positive impact the new line has had on branch sales, and why his operation is moving more and more of its plug purchases to Cherne.  
ORLANDO, FLORIDA — If there was such a thing as "The Pipe Plug Capital of America," this rapidly growing city of nearly two million would certainly be a prime contender for the honor. Although an inland community, water is everywhere underground in Orlando and rarely far beneath the surface. As a result, subterranean piping projects — both new work and maintenance and repair — routinely call for multiple plugs of all sizes (up to 120 inches) to block or bypass the water or sewage flow, or to test the thousands of feet of pipe conveying all that fluid to its rightful destinations.
The volume and variety of plugs used in this market explain why Cherne Industries recently chose Orlando to beta-test its new I-Series line of Test-Ball®, Muni-Ball®, Air-Loc® and Remo® pipe plugs. In doing so, the company partnered with one of the largest excavation, shoring and safety product specialists in America today: Trench Plate Rental Company (TPR), with 34 branches nationwide. In Orlando, Cherne worked with TPR's highly successful branch there, now headed by General Manager Jason Figueredo. 
The new I-Series offers a number of important innovations over the previous generation of pipe plugs. First and foremost, Cherne's new robotic manufacturing system more securely joins the plug's aluminum end plate to its premium natural-rubber core. Robotics permit a more precise and consistent fabrication from plug to plug, while eliminating field failures sometimes found with the former chemical-bonding connection process. The plugs are made to last five times longer than their predecessors.
A second major innovation is the corrosion-resistance of that aluminum base plate with its laser-etched identifiers; e.g., item and serial numbers, plug size, and inflation pressure. This more modern system of identification replaces the raised rubber markings that would eventually wear away with usage on the old-style products.
In short, Cherne believed the markings on its new I-Series plugs would remain legible as long as the better-made plugs themselves, giving contractors less to worry about and struggle with on the job. But Cherne wanted to test those features — and their claims — in a large, high-demand market like Orlando, whose community of professional installers would give the product as rugged a workout as could be found anywhere.
At the time of the beta test in 2019, Figueredo was working in outside sales for TPR Orlando, then headed by industry veteran Wayne Agame. But Figueredo was involved enough with the testing and, in particular, the subsequently successful, formal launch of the I-Series to comment on how well the product has been received to date in his locale.
Figueredo's thoughts on the Orlando underground piping market and the new I-Series plugs follow…
Question: What sorts of professionals make up Trench Plate Rental's customer base?
Jason Figueredo (JF): Pretty much any construction trade that needs to dig a hole, plumb a pipe, bury a line or pave a road — mechanical contractors, waste water treatment specialists, plumbers, even electricians, all of whom work underground at one time or another. Our bread-and-butter is the underground contractor who is plugging, bypassing, rerouting pipe to be able to pump out the water, so they can get down in a hole to work on something. For example, they may need to stop the flow into a manhole, so they can core-drill a new hole for new pipe. 
Q: What factors go into the decision to buy or rent the hundreds of products TPR stocks?
JF: The main reason is cost, depending on the time frame. A contractor may think: I am going to be working with this equipment long enough — two to four months — that I should just buy it and save a few dollars. Others prefer to rent because they don't want the responsibility of maintaining the equipment. 
Take the Cherne plugs. We sell our customers hard on the idea that we take very good care of this equipment, in-house, after every use. We test them, wash them, inspect them for cuts and even pinholes. We make sure there is no drop-off in pressure, that the caps and fittings are screwed on completely; or we install new ones if we need to retap the plugs. We want our customers to be confident that those Cherne plugs will always perform properly — because of the product's quality, because the product is maintained by us, and because I know exactly what they need.
Q: How exactly does your product knowledge come into play? 
JF: Say a contractor asks: "Hey, I have a 54-inch pipe I need to plug, and I have to go down a manhole to get to it." Okay. I know that a manhole lid is typically 22-and-a-half inches wide. I also know that a 24-60 Cherne plug shrinks down to 19-and-a-half inches with all the air removed, so it will fit through that lid and down the hole. That contractor may not know exactly what he needs, but he believes we can help them find it, and that I know what I'm talking about when I recommend a particular model. 
Q: Cherne opted to beta-test the new I-Series with TPR-Orlando because of the size of both your company and the underground-piping market here. What else did TPR bring to the table that made your branch such an attractive partner?
JF: Simply put — our customers. We can bring new products to them to test: "Try this out and let us know what you think." And that's exactly what they do. What they provide a manufacturer like Cherne, through us, is genuinely honest and useful information. "Hey, this is a great idea, but…"
Thanks to them, we are able to share not just glittering generalities, but the customer's actual, real-life experiences. We have brought up issues with the manufacturer, and that's a huge key to successful beta testing: Put it into the field to see how it performs, and then use those experiences to make a good product even better.  
Q: In the wake of the beta-testing in 2019, how has the product offering been received by your customers since it was officially launched? 
JF: We currently stock the Test-Ball, the AirLoc and the Muni-Ball, and all of them are doing very well. The new-style plug looks and feels stronger — it is well-built. From what I am hearing and seeing, the new plugs are definitely more durable. 
We are getting great feedback from our customers, who especially like the higher back-pressure rating [15 psi, or pounds per square inch]. They also like etching that psi figure, along with other critical information, right on the faceplate in raised letters. That is huge — a no-brainer — to be able to rely on the face plate for accurate information over the life of the plug. No more wondering about what you have in the field. 
Q: Do you need to do any less maintenance on the new-style plugs than the old ones? 
JF: It is definitely a lot less maintenance: No tightening up or changing out the fittings, for example. Of course, it's a little difficult to gauge maintenance at this stage, because the plugs are so new. I asked our one employee who specializes in checking and testing rental plugs after they have been returned to our warehouse. He sees the problems up close, and he simply said: "Man, it's a great plug — just inspect and wash them. That's it. The plug just seems to be built better."  
Q: Are you shifting plug purchases more and more to Cherne?
JF: Yes, absolutely, and the new plugs have definitely had a positive impact on our sales over the past year. 
Q: Is it just the quality of the new I-Series, or have other factors driven changes in your purchasing habits?
JF: Cherne has become my go-to brand for plugs. One of the reasons is the superior way in which these new plugs are built, of course. But it is also the quality of the customer service they provide. The knowledge of the people. The availability of the product. How they make good service happen. Maybe I need a specific plug within 24 hours: Cherne will provide it, while also giving me the freight-rate price in the email response. 
Their service quality is also reflected in the tracking number they routinely provide, so I can closely monitor that critical shipment. That way, I can see exactly when the plug will show up.
In addition, when a faceplate comes off of a plug, we will send a picture of it to Cherne, and they will promptly fix the problem under its warranty. The company takes pride in resolving factory problems like that. That, in turn, is what keeps our own customers confident in us and our ability to provide the right product to the right job site in a timely way. 
I'm not saying another manufacturer might not do many of the same things in similar situations if I called them, but I can say that the best experiences I have had over the years have been with Cherne and its local sales team. We are super-happy with them and their products.